Online payment methods are regularly used around the world. The only difference between how you pay and how your customers pay around the world is the norms of their geographic location. Below are the most popular forms of online payment based upon the region of the world.
Top 10 online payment methods
Platform
Europe
North America
Asia
Australia & New Zealand
Credit/Debit Cards
MasterCard
Visa
American Express
MasterCard
American Express
Discover
UnionPay
MasterCard
Visa
Visa
MasterCard
American Express
eWallet
PayPal
Amazon Pay
Google Pay
PayPal
Apple Pay
Google Pay
WePay Chat
AliPay
Paytm
PayPal
Apple Pay
Samsung Pay
Crypto
Bitcoin
Bitcoin
Bitcoin
Bitcoin
Instant Financing
Klarna
Klarna
Afterpay
Konbini
zipPay
Klarna
There seem to be so many ways we can pay for things and how our businesses can receive transactions. We've listed the top 10 online payment methods you should consider now and in the future based on ease of use and coverage around the world. We've come a long way in the last 100 years for how we pay for things. Generally, people were able to barter and trade common goods for one another, now we typically focus on paying with the money we have in our bank accounts.
1. Paypal
PayPal is one of the safest and popular forms of online payment. Its popularity stems from its simplicity and speed. While it is quick and easy to use, they charge a fee depending on the currency being used and the size of the transaction.
2. Amazon Pay
It seems that Amazon has their hands into every scope of business and shopping. Amazon Pay utilizes its users' accounts to store payment information to ensure a painless payment process. One reason why their platform is so popular is that many third-party websites accept Amazon payment methods. If you have done any shopping online, you probably are familiar with this system.
3. eBay
This company's payment system allows shoppers to enter their information, process it, and never leave the site. You do not need to have any other accounts to buy or sell items on their marketplace.
4. Google Pay
Once you enter your payment information on your google account, you are able to quickly check out on third-party sites, send or request money from your friends directly, and use your phone to pay in stores. One of the most convenient things about google pay is that it is free to use for you and your customers.
5. Apple Pay
With the mobile telephone market dominated by the iPhone, using Apple Pay seems like a natural choice for many customers to make. Hooking up Apple Pay to your phone allows you to pay with Face ID and without any contact at all. Compared to the typical debit and credit card payments, it allows users to pay in a safer and more secure way.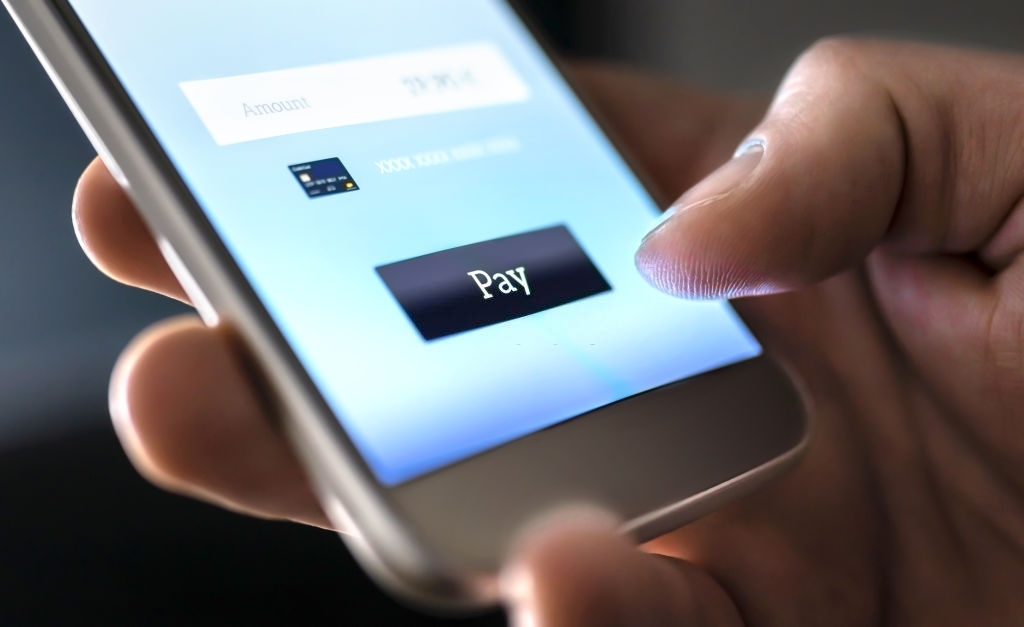 6. Direct Debit Payments
This method of payment takes the money directly out of your account and into the hands of the business. This allows for faster payments and less time for money to be sitting in your accounts payable. Direct Debit Payments also allow you to set up recurring payments to different businesses without ever giving it a second thought. You can read our article about options beyond ACH.
7. Gift Cards
We are all familiar with this form of payment. This card allows you to shop online but is usually restricted to a specific company or retailer. This card cannot be reloaded and is worthless once the amount on the card has been exhausted.
8. Instant Financing for Large Purchases
With instant financing, you no longer have to worry about having enough money in your bank account. This allows purchases to be made in full upfront for the business but allows the customer to create a payment plan for months to come. One of the best parts about this online payment method is that your payment plan is interest-free. The only downside is that you will have to pay a fee upfront to allow you to reap the benefits of later payments.
9.Cryptocurrencies
Cryptocurrencies are on the rise for young investors. With the most popular crypto being BitCoin. When this currency first started, there was a lot of speculation and doubt to whether or not it really had value. Unlike the American Dollar, BitCoin is not backed by any physical assets. Most currencies have a gold backing, but crypto is backed by people believing it has value. Cryptocurrency is very volatile and its worth can change at any given moment so be careful and do your research before you make a decision. To stay current in your business, consider the future of online crypto payments. Even Tesla CEO Elon Musk is accepting BitCoin as a payment method for Tesla products.
The Scope of Online Payments
While there are many options in the fintech world, we understand that the landscape is ever-changing. What is popular today may be replaced by a new option in six months. We will try our best to update this article as the options become available.